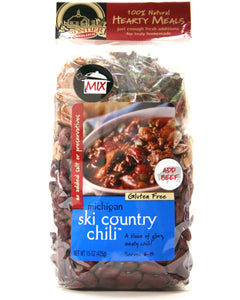 Michigan Ski Country Chili Mix
This chili mix supplies winter warmth to skiers and other outdoor enthusiasts! Add ground chuck and sliced pork for this blaze-of-glory Midwestern chili soup. Serves 6 - 8.
Ingredients:
Kidney beans, cranberry beans, onion, chili peppers, celery, peppers, paprika, garlic, cayenne, spices and herbs; Gluten-free.