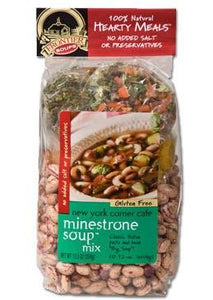 New York Corner Cafe Minestrone Soup Mix
A blend of Italian seasonings, elbow macaroni, and cranberry beans makes this classic preparation a feast for La Familia. Add Brussels sprouts and bacon. Gluten free with corn pasta. 
Minestrone Soup Mix Ingredients: Cranberry beans, red and green peppers, celery, carrots, parsley, Gluten free corn pasta and herbs. No added salt, preservatives or MSG.